Patient-centered design can be described as an approach that establishes a partnership among patients, caregivers and the design team to ensure future design decisions are respectful of, and responsive to, the preferences and needs of the patient. This style of information gathering and implementation is at the core of INVISION's design process and by involving patients early on, the design team can effectively glean information to create a space that is both healing and acknowledges patient's preferences. The implementation of patient-centered design has both positive and far-reaching results.
"Patients are the people who matter most in the design outcome," said INVISION Architecture Interior Designer Miranda Budnik. ​"Engaging them and having an understanding of what their preferences and needs are is the best way we can create a high-quality experience."
Although it is never a client's desire to cause a patient to feel distressed or emotionally unsettled, the healthcare journey can unintentionally include unpleasant moments. The goal of patient-centered design is to change the perception of patient care and enhance the overall healthcare experience by implementing new strategies based on patient feedback.
"Hearing about the patient experience is eye-opening because most of us have never been through their situation before and hopefully never will," said Budnik. ​"Each patient's journey is so unique. Being able to design to influence the outcome of the patient experience, from start to finish, ensures good business."
Perhaps a fundamental truth of patient-centered design is that each patient's experience is deeply personal, in different ways. The design process must keep the human element in perspective while considering the entire journey. Every possible touchpoint of a customer must be carefully considered. Healthcare is tied emotionally to a person through their interaction of space, services, technology, resources and aesthetics, among other factors. Emotions and moments experienced during the patient life cycle become a memory, and those memories become associated with a particular facility and brand. If a healthcare system can connect empathetically with their customers during the design and implementation of a space, the first step towards delivering high-quality and supportive care has been met.
When INVISION began working with Knoxville Hospital and Clinics in 2022 to plan a specialty services addition, a patient advisory committee was formed to provide insight and give feedback on past interactions with the hospital and clinic. The healthcare team met with the patient advisory committee during the discovery phase, looking to better understand their needs and priorities. After gathering and analyzing the data, the healthcare team shared results with the hospital to gain support and eventually integrate their findings into the new infusion center.
"What it does is ultimately improve the satisfaction and overall outcome of the patient," said Budnik. ​"This process will make the final product a huge success for their community and for the people who will one day need to use the space."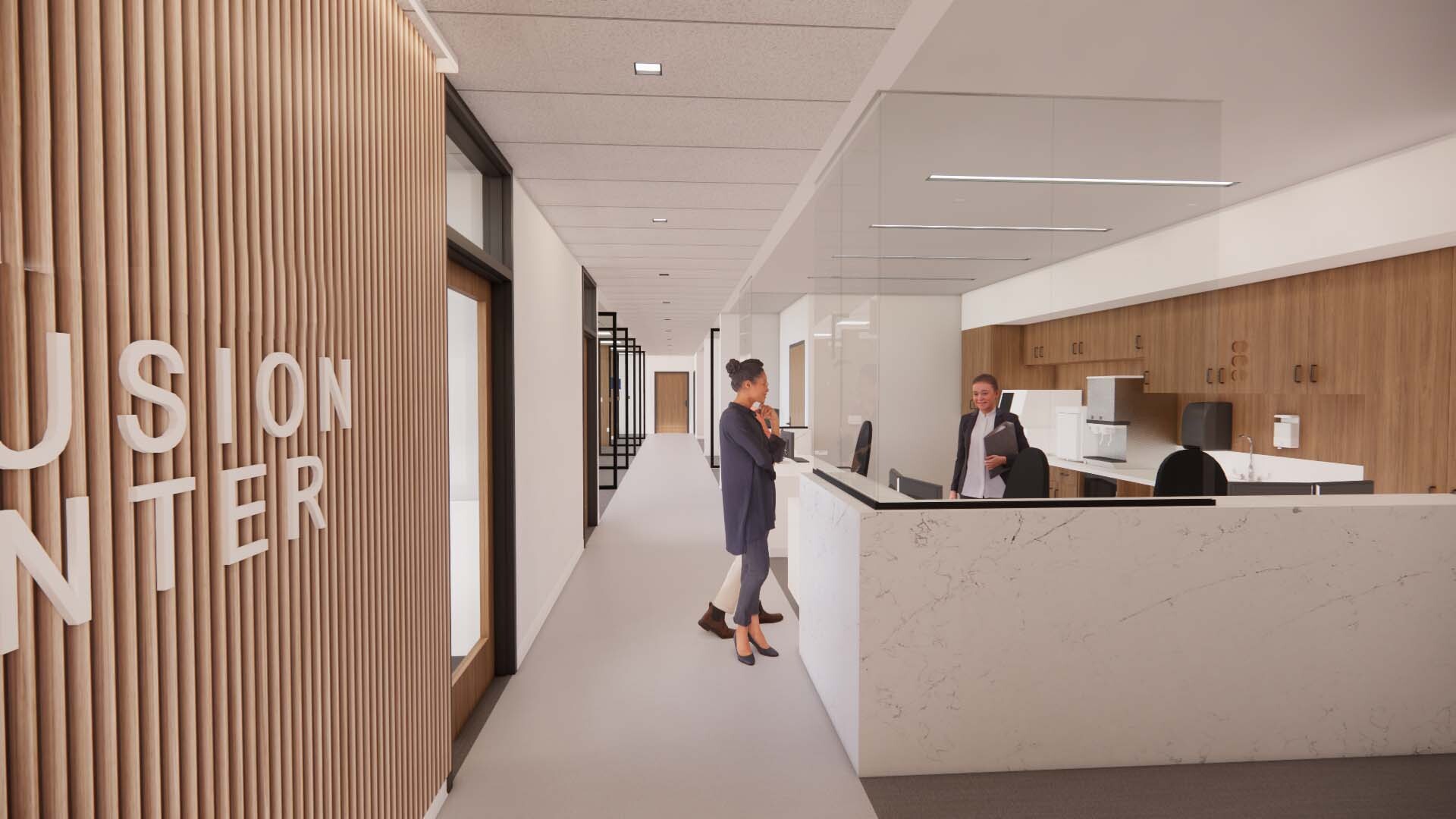 Knoxville Hospital and Clinic's patient advisory committee highlighted several specific accommodations. Views to the outdoors ranked as the top priority. To feel the sun, experience the elements, keep the internal clock in tune while feeling viscerally connected to the world was noted as an invaluable benefit for patients, who can often feel isolated for long periods of time. Flexibility of space was another high-ranking need. Patients wanted their space to be both open, to host friends and family while creating a close and supportive environment, but also flexible enough to become isolated, supporting privacy and rest for their treatment and recovery.
"Patients want that flexibility of space depending on their day and how their treatment is going." said Knoxville Hospital and Clinics Chief Nursing Officer Jan Myers. ​"Sometimes a patient wants conversation. Sometimes they want to be alone. The patients voiced that, and INVISION was able to deliver a beautiful, functional, healing environment that accommodates the patient's needs and desires."
The visibility of staff and the nursing station in relation to patient treatment areas was a significant desire. Knowing a healthcare professional is always within arm's reach dramatically reduces stress for certain patients surveyed. The advisory committee also agreed upon features such as the implementation of natural and warm lighting, temperature control, reduction of ambient noise and loud sounds, pleasing color palettes and comfortable seating.
"Hearing their voice and trying to see the experience through their eyes will increase the chances of this project being a success for the community and their caregivers," said Budnik.
There are many ways to systematically improve the customer experience through patient-centered design, but to deeply impact the life of the patient takes design that is intentional, compassionate, inspired and in alignment with their most basic human needs. By listening to those who have experienced the healthcare system firsthand, the client may become aware of what changes to their facility can foster an environment that may better promote human well-being, comprehensive treatment and a supportive recovery.