What sets us apart is our client care.
When you work with INVISION, you'll find that the first step in our process is listening to you. We take time to understand your goals and vision, so we can design beautiful spaces that function for you now and into the future. Then, as your vision begins to take shape, we'll work together to make sure you're confident in every step of our design and problem-solving process, while staying within your budget. By the end, we think you'll look back and appreciate the innovations we brought to life.
We seek clients who value commitment, knowledge, innovation and experience.
We choose clients who recognize the expertise our team brings to their projects. They know we are their trusted advisor.
We have passion for architecture, design and ideas.
We believe design has the opportunity to enhance the human spirit and build community.
We seek to build relationships at every phase of the process.
We work with integrity to earn the trust of those with whom we work.
Our culture is paramount to our success.
We celebrate success. We support each other's challenges.
We seek opportunities to share knowledge and collaborate with each other.
We consider our profession to be a rewarding part of a balanced life.
We are always learning and encourage opportunities to explore.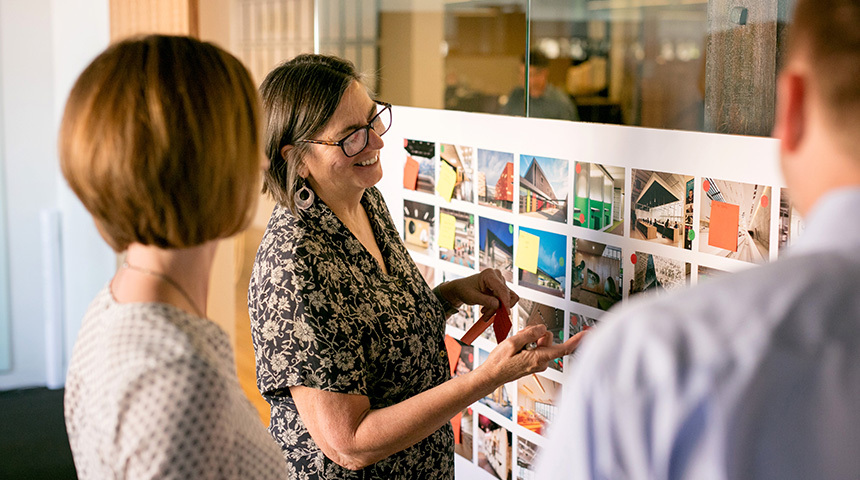 Standing by to help in ways you might not expect.
As your project progresses, remember that we can offer assistance with related aspects, such as medical planning, historic preservation, strategic site and facility planning, move management, zoning assistance, LEED certification, art selection, furniture packages, experiential graphics and so much more. Just ask your managing architect.