Remembering Bob Broshar, FAIA-E
May 05, 2017
Robert ​
"

Bob" Broshar, past partner of

INVISION

, passed away on Thursday, May

4

th in Tucson, Arizona.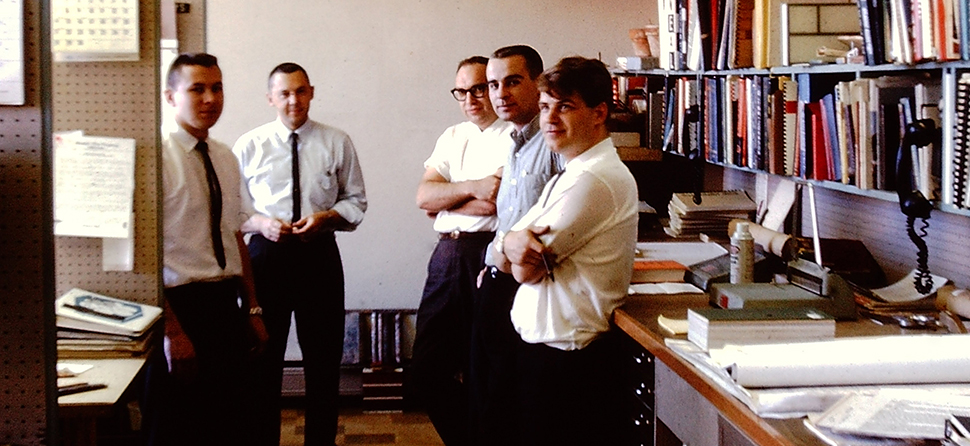 A 1954 graduate of Iowa State University, Bob joined Thorson Thorson Madsen Architects in Waterloo that year. After service in the US Army and working in another practice of his own, Bob returned to what was then Thorson Brom Architects, and the firm became Thorson Brom Broshar. His work included numerous churches, The Conway Convention Center (now Five Sullivan Brothers Convention Center), the University of Iowa Communications Building and wings and additions for Allen Hospital and Marshalltown Hospital.
Bob was a true people person, able to recall names and personal details even of those he only met for a short time. His commitment to the firm's staff and clients was a core value that drove growth throughout his 34 year partnership. Bob could often be found walking through the studio, reviewing staff's boards and asking about their projects, mentoring and teaching, always focused on clients' needs.
His spirit of service led him to serve as the president of the AIA Iowa chapter and then of the National AIA. He was recognized by his peers as an AIA Fellow and with the AIA Iowa Medal of Honor, the highest award that the organization bestows. His legacy lives on at INVISION, nowhere more keenly than in his son, Michael Broshar, who has also through his distinguished career been recognized as an AIA Fellow and, in 2016, with the AIA Iowa Medal of Honor, making Bob and Mike the first father and son recognized for their contributions to the profession.

A Celebration of Life will be held for Bob at the Sullivan Brothers Iowa Veterans Museum in Waterloo, on Saturday May 20 at 2:00 p.m.
Memorial contributions may be made to Iowa Architectural Foundation, Central Gardens – Clear Lake, IA or Waterloo Center for the Arts.
Bob Broshar's passion for people and for service became core values of
INVISION

's culture, and keys to the firm's ongoing growth and success.