Design that supports student success
August 09, 2018
Half of students who begin a college education don't reach graduation. So, what are we going to do about it?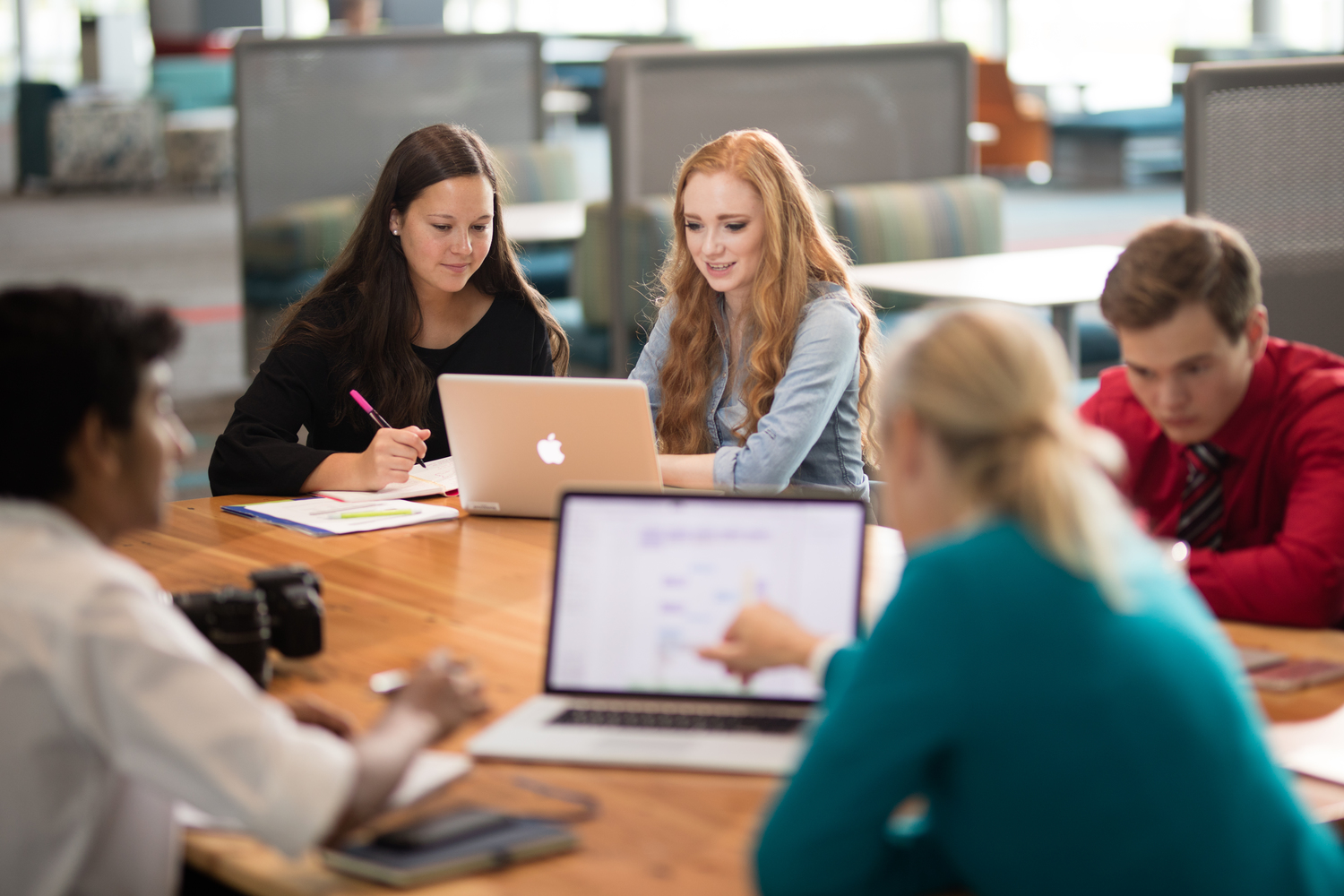 A college campus can be overwhelming. So many decisions to make in a place that is unfamiliar and downright scary. Where to park, which building, how to find the services that you need? Access and location of primary services for students need to be intuitive, positive and welcoming. Students, and their families, should feel like they arrived at a place that they can navigate – an environment that says students WILL succeed here. Once these students are acclimated to campus, less than 20% graduate in four years. Changing this has become critical as costs have increased. The growing college populations of low income and minority students are the students at greatest risk of not graduating on time or completing their degrees. The reasons vary from financial to academic performance. For some it is the culture of the college campus that is the hurdle to be crossed. Many colleges were once thought of as sink or swim weed-out institutions.
Today colleges are exploring a number of strategies to ensure retention and academic performance using predictive analytics, intensive advising and innovative teaching to name a few. Predictive analytics can identify students that need support early when intervention has a chance to change outcomes. Intensive advising, gives students that helping hand to keep the path to graduation clear. Innovative teaching changes the paradigm of teaching from passive to active learning. Adjusting the college culture focused on student success support strategies can significantly impact these challenges.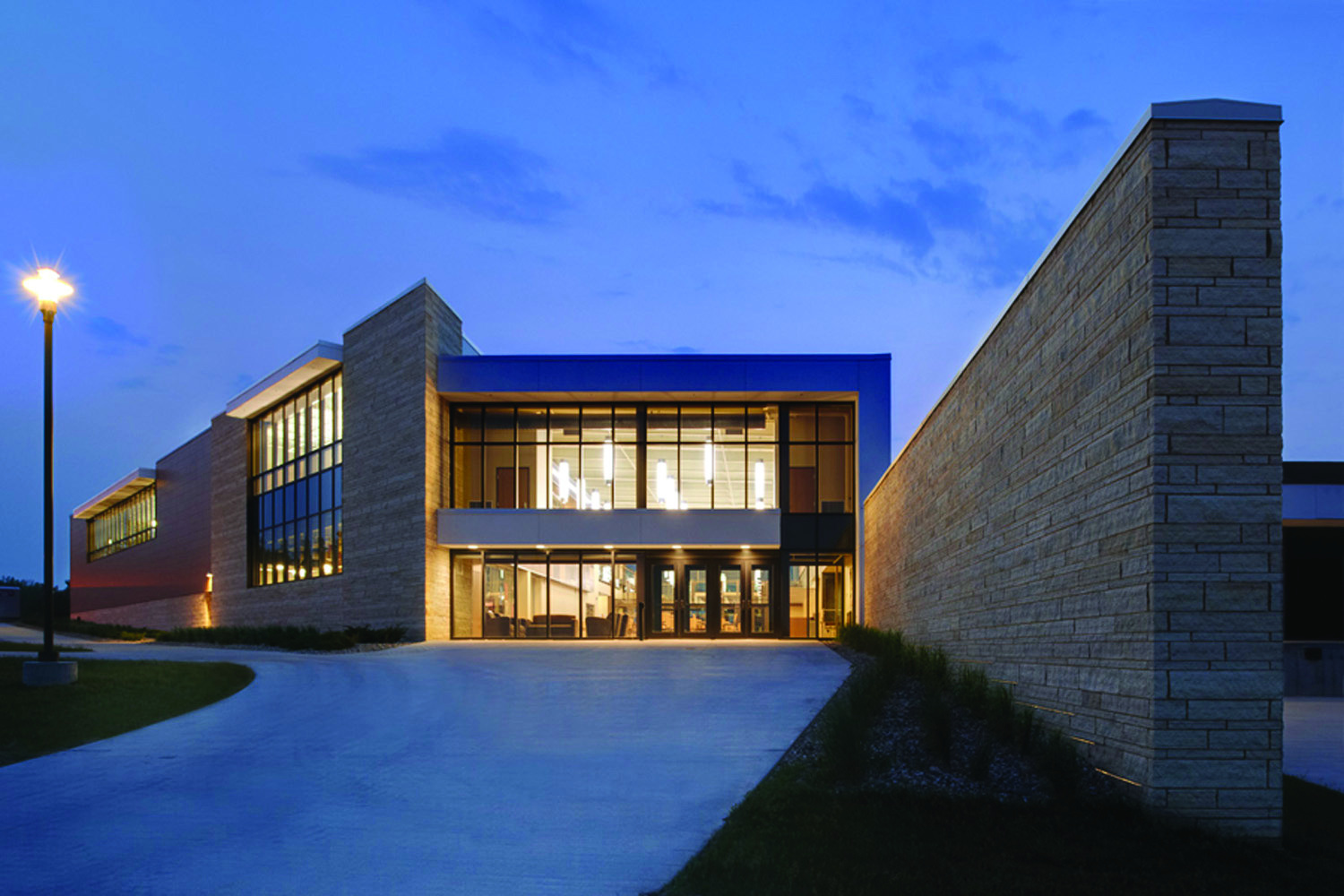 There should be no question about where to go
Clear visible signage is important, but you can't beat a reception desk with a helpful person to greet and direct students and parents at the front door. From there, a space with an open view of options helps with wayfinding. Being able to see what is available makes access easy.
The front door is unmistakable.
Northeast Iowa Community College, Calmar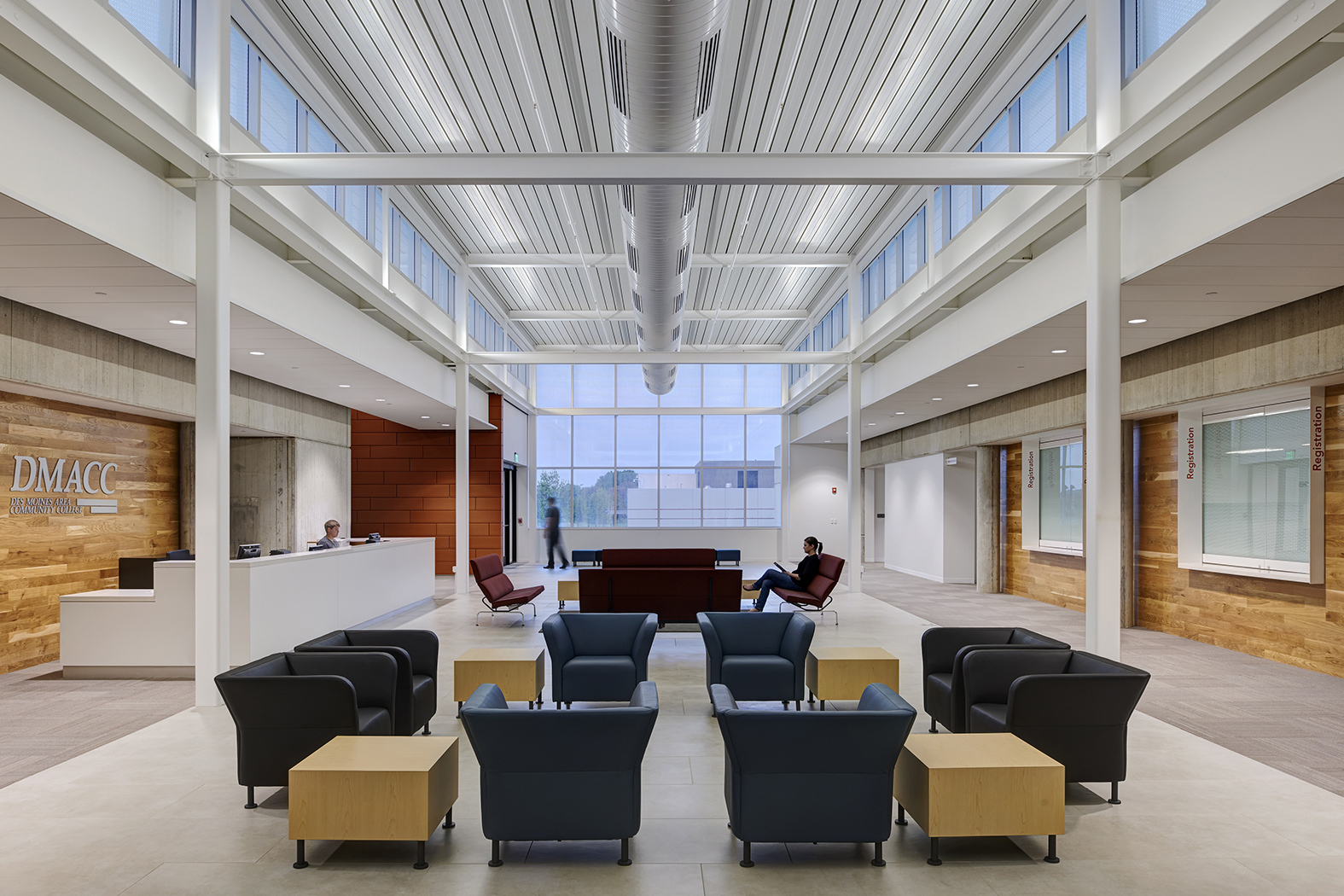 Create a student-centered environment

A one stop-shop where students have access to primary support services means that there are students around. When there are students around, other students feel like they should be there. Students often make visits to multiple services, so make it easy. After a visit to Admissions, getting to Financial Aid, the Registrar or Advising should be nearby and easy to find.
Daylit lobby with visible access to Student Success departments
Des Moines Area Community College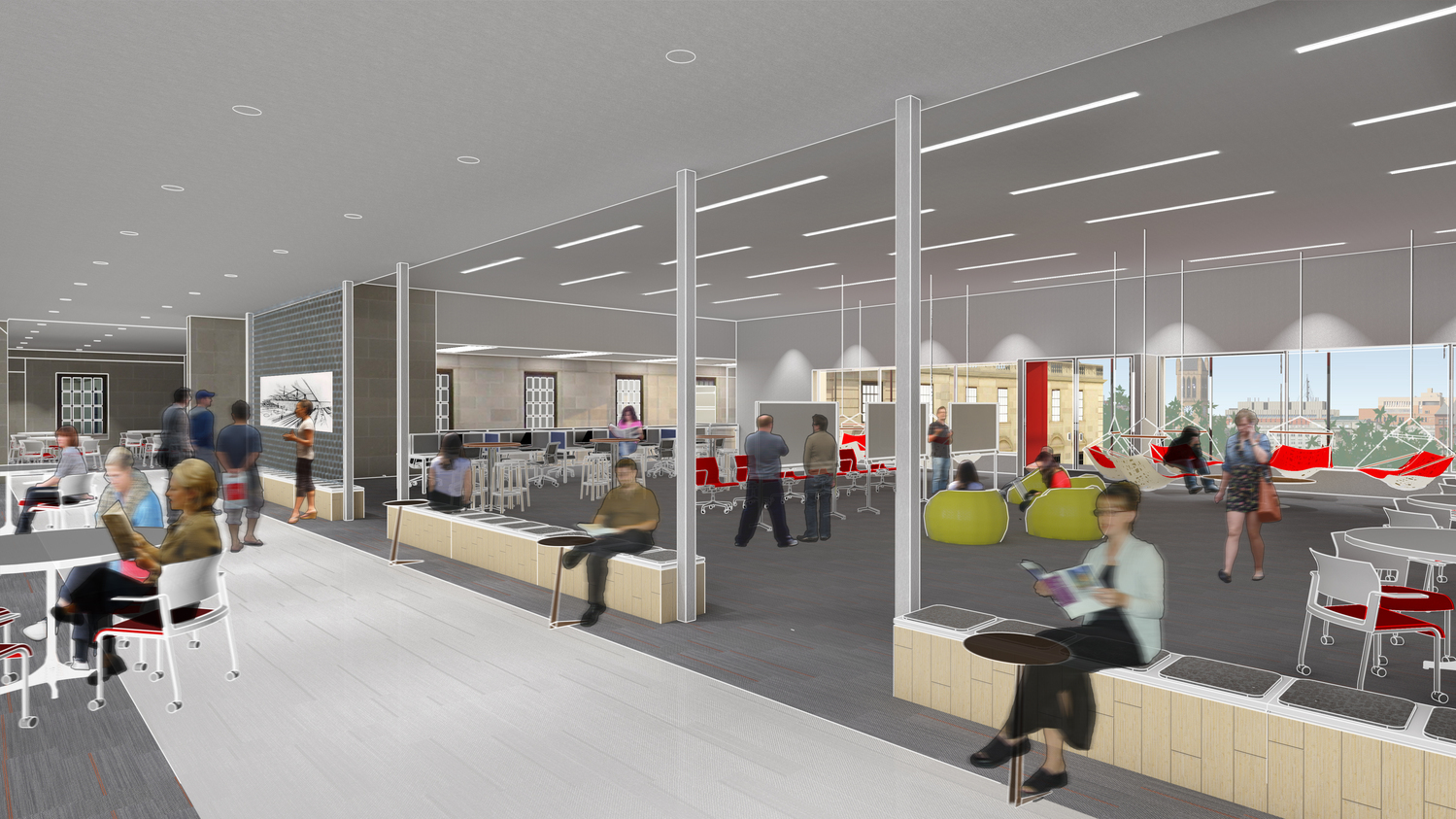 Put learning on display

Open views and daylight make spaces dynamic and accessible. Faculty offices grouped with small conferencing areas show students that faculty are open to meeting and working with students. Students meeting together in small groups or working in view of others sends a message of engagement and community.
Spaces for students to interact encourages group learning
Iowa State University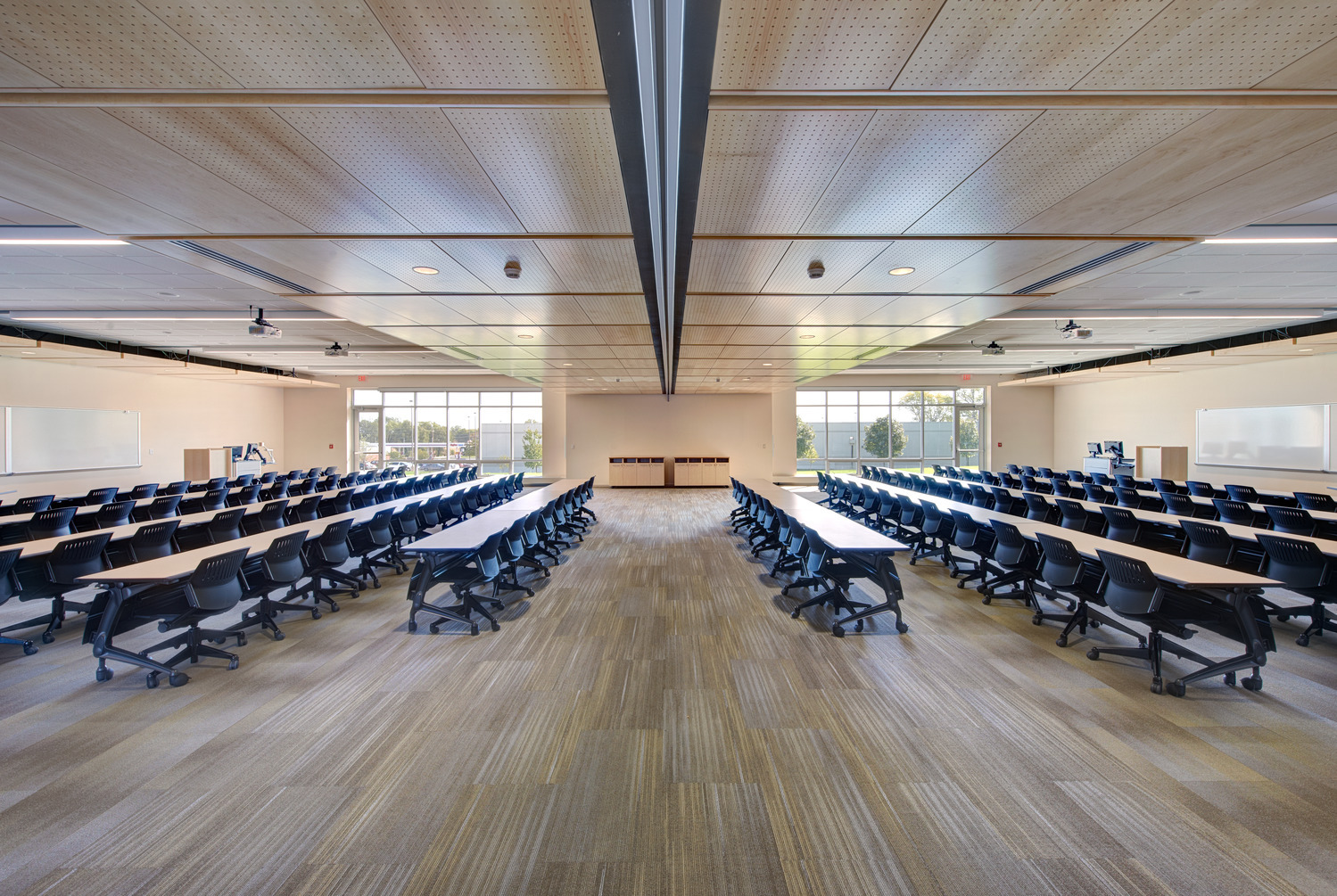 Plan for the future

Efforts to design spaces that can be flexible means they can support a variety of program needs and adapt over time. Building in technology support like power, video monitors, and wireless access makes spaces adaptable to work rooms and lecture spaces. Moveable furniture allows options for group presentation or smaller collaboration groups.
Moveable furniture creates multiple configurations and provides flexibility for future renovations
Allen College
Rethink advising

Building intensive advising into the standard student experience means putting it front and center in the life of a student. Consider locating the advising department adjacent to other student services including the fun ones like Student Life and food outlets. Consider efficient ways to add space for additional advising counselors, like hoteling workstations and flexible use small meeting rooms rather than individual offices in departmental silos. Integration of advising into student life means integration of the space as well. Additional advising space can be successful in student housing areas too.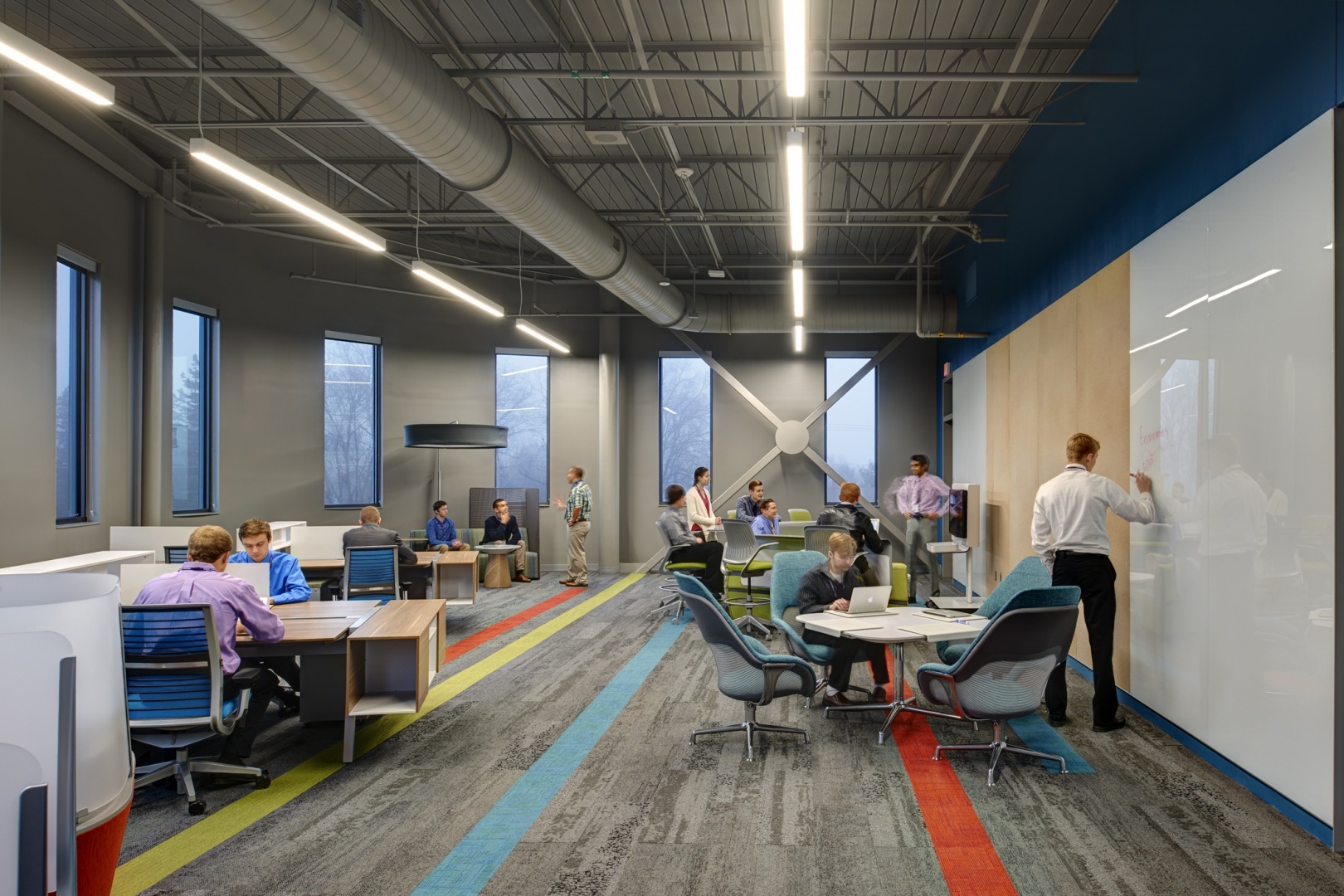 Flipped classrooms
When classrooms flip, the students use classrooms as studios more than lecture spaces. Consider mobile furniture, writeable walls around the room and distributed video options. It also means that teachers are preparing lectures for technology-based delivery which may require production space, technology support and quiet spaces for student to view the content.
Writeable walls allow staff and students to collaborate
Waukee Innovation
&

Learning Center
Encourage active and experiential learning

Active learning means students are engaged in project based experiences, which means they may need a variety of resources to explore their given topic. Shared studios and labs with a technician may serve a curriculum of active learning best. Although the bulk of experiential learning may take place off campus, production, collaboration and presentation will be supported with campus resources. Small meeting rooms, printing access, hoteling work stations for guests may help support these programs.
Mix it up a little
Integrated Pathways help students identify a route to graduation that interests them before they choose a specific major. Although this is a curriculum-based strategy, access to overlapping learning opportunities can spark interest and help students identify paths that they are and aren't interested in. Rather than department silos, buildings can group classrooms and labs to make the learning paths integrated between disciplines. Providing shared labs, flexible classrooms and a variety of meeting spaces makes spaces adaptable to different types of programming that may change over time. This approach also encourages the interdisciplinary collaboration that students will see in their professional lives moving forward.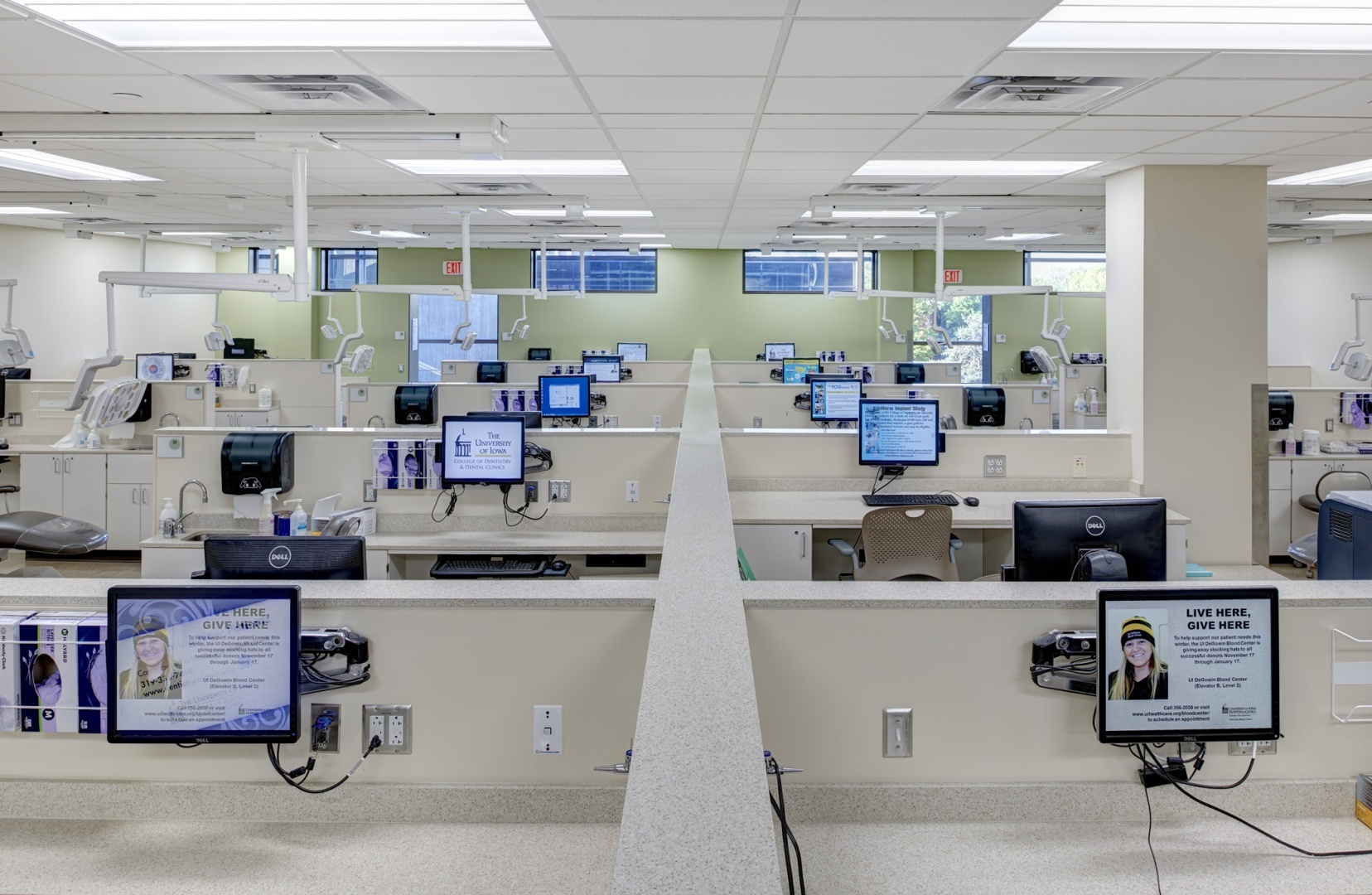 Integrate technology
Technology is used in so many ways and buildings need to be planned to support them all. Large group presentations and individual learning require different technology support. Alternate course delivery options including MOOCs, Immersive technology, gaming, augmented instruction and mobile learning will make access to technology resources even more important. Technology help desks and associated spaces should be planned to support these learning options.
Monitors installed at every learning station
The University of Iowa