Growing trends for high-performance workplaces
January 16, 2017
Given the global competition for talent, time and attention in design is increasingly placed on creating high performance workplaces.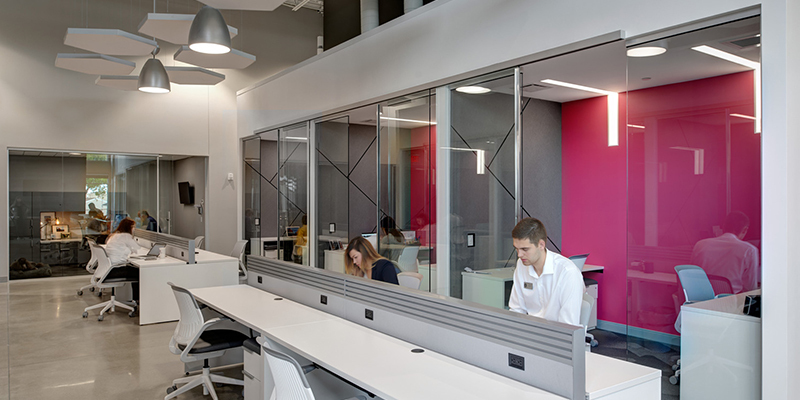 We have seen a strengthening focus on staff needs and comfort across a variety of markets, from increased attention to efficient workflows and lean processes in healthcare to a shift toward open and collaborative workplaces in the corporate environment. Layouts in design have a direct impact on performance, affecting patient care, productivity and employee engagement. The last can have a significant impact on attraction and retention of talent, which is in the forefront of concerns for many businesses.

Design choices that promote employee engagement do not have to be big ticket items. Often the little things, that may have a perceived low value, can make a significant difference. With that in mind, here are three growing trends in design for high-performance workplaces.
Collaboration shift
Collaboration creates opportunities for creativity and shared knowledge across institutions, and is increasingly recognized as a vital component of today's workplace. Designing for collaboration requires looking at how staff work and designing spaces where they can encounter each other and engage in knowledge sharing. They should have a balanced combination of both openness and privacy, for example open workstations with smaller enclave spaces for breakout sessions. It's not enough to just get rid of the cubicle walls; thoughtful design looks at workflow and traffic to maximize opportunities for fruitful collisions.
Working on the move
More and more workplaces have flexible workspaces that allow employees to be productive without being chained to one cubicle. Laptops, Wi-Fi, smartphones and other mobile technologies allow work to be done in various locations. To meet the needs of mobile, collaborative workers, offices are including ​"hoteling" workstations that are open to users who find themselves nearby. Designing for open workspaces and mobile workers means thinking differently about technology access and storage, and even factoring in smaller items like where you'll plug that roving laptop in. Flexible, adaptable and thoughtfully designed infrastructure allows companies to meet current needs and continue to grow in a fast-paced world.
Maintaining autonomy and privacy
All of this openness and collaboration must balance with employees' needs for private space and control of the environment. Direct access to daylight improves efficiency and staff satisfaction, but must be coupled with easy to manage sun control. Minimalizing glare and hot spots for staff is extremely important for productivity. A nomadic style of working can create exciting collaborations, but team member must also have a place to put her purse. An understanding of the balance of these needs is essential to creating a design that truly promotes employee engagement and collaboration.
For some time, workplaces in the corporate world have supported a mobile workforce and collaborative work environments while maximizing the use of technology. These workplace design strategies are now taking hold in healthcare, and across industries we are seeing the need to design with these concepts in mind in order to promote both efficient work and employee engagement. Understanding current trends and the need for thoughtful flexibility is key to designing the modern workplace, be it for a hospital or a major corporate companies. The pace of change is so fast anymore that the one thing we know is that our best ideas will change before our best buildings will be replaced.