Important community partnership recognized with design award
October 16, 2015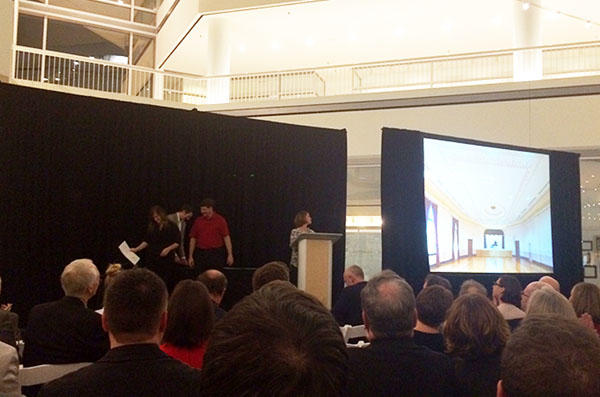 Thanks to the Warren Cultural Center for the opportunity to partner with you on a design that not only had a big community impact, but is again recognized with the
2015

American Institute of Architects (

AIA

) Central States Region Historic Preservation Merit Award.
Warren Cultural Center, in Greenfield, Iowa, is a small-town opera house that was restored to provide an adaptable, multi-use home for arts and cultural activities. The interior arrangement of the opera house block features entertainment, commercial and residential space. An addition was designed with careful consideration of materials and components to recall the organization and proportions of the historical façade. The project, completed on an aggressive timeline, restored three buildings following the Secretary of Interior's Standards for Historic Preservation.
The Excellence in Design award event was hosted by AIA Iowa on October 15, 2015 in Des Moines, Iowa and included firms in Iowa, Kansas, Missouri, Nebraska and Oklahoma. They are the highest recognition for works that exemplify excellence in architecture. Projects are judged based on a variety of features, including unique design, originality, extended use attributes, sustainability, budget and use of environmental surroundings.
INVISION is honored to have received this prestigious award at the Central States Region's fall convention and is excited to continue offering imaginative and client-focused design solutions that provide for present and future needs.