INVISION sponsors Interdisciplinary Design Studio at Iowa State University
February 27, 2017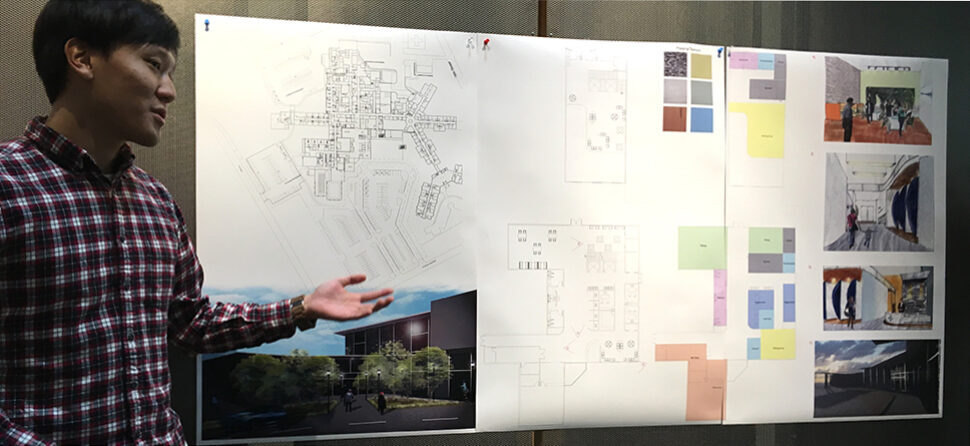 INVISION

is sponsoring the Health Healing and Wellness Studio at Iowa State University's College of Design this semester, taught by Cameron Campbell and Jihyun Song.
This studio focuses on training design students in the demands of healthcare design. Students engage in five projects, themed around community and critical access hospitals, to give the participants an understanding of the challenges and rewards of healthcare design.
The group of 14 is comprised of students in architecture and interior design. INVISION leaders developed the timeline and projects for this unique course. The projects are:

Community Hospital Research
Lobby Design
Inpatient Unit and Room Design
Outpatient Clinic/​Wellness Center Design
Community Hospital Replacement Design
Students engage in design assignments for each of the projects, based on the program needs of a specific INVISION client for each project. The hallmark of the studio is interdisciplinary collaboration, with the students working together to meet client needs in a setting that emulates the ​"real world." Students also tour relevant client facilities to understand conditions on the ground. Some of our clients have been gracious enough to open their doors for student tours:
Buchanan County Health Center
Community Memorial Hospital
Regional Medical Center
Sartori Hospital
Story County Medical Center
The majority of the clients are critical access hospitals, which means they have 25 or fewer beds. Students get to see the facilities, understand the needs and program of the hospital, then make design decisions based on that understanding with feedback and guidance from our healthcare design professionals.
The INVISION team leading the studio are Angie Nees, Becky Hansel, and Kristina Mehmen. Tim Turnis and Jason DeVries. Additional INVISION studio members have been involved in desk critiques and project reviews of the students. Now halfway through the semester, this has been a rewarding process, and part of INVISION's commitment to building great healthcare design.