To align our firm's mission of ​"Enriching Lives Through Architecture," with community initiatives throughout the Des Moines metro, we have pledged to donate our time and expertise to projects and clients that serve in the best interest of the public.
At INVISION, we believe architecture has the opportunity to enrich lives. By selectively offering pro bono services to non-profit organizations in our communities, it is our goal to improve the overall wellbeing of society and to provide services to those who otherwise don't have access. We are called to identify the challenges that afflict our community and are dedicated to solving those challenges. By creating relationships with like-minded non-profits, we hope our work will continue to positively impact the individuals we interact with and the community we live. It is our philosophy to lead by example, and in doing so perhaps we can encourage others to help make the world a better place.
Since beginning pro bono work, our firm has completed more than a dozen projects with nonprofit organizations in the Cedar Valley and Des Moines metro, working with clients in a range of market sectors.
"There are several paths we've developed to work with non-profit entities, but the end goal is always the same; to use our talents to best serve the needs of the communities we live and work in," said Associate, Architect Maggie Watkins.
A set of criteria and selection process was determined to help identify pro bono opportunities. Partnering with nonprofit organizations that embody like-minded values and have a long-standing reputation as public stewards are of importance. Projects with specific social, economic or environmental impacts are prioritized.
"We want all clients to have a similar experience and to feel valued, regardless of project scope or scale," said Associate, Architect Shannon Swift.
Projects up for consideration may come to the firm's attention in different ways. Preexisting client relationships may bring in potential work, such was the case for The Kitchen, Ronald McDonald House at MercyOne and The Boys & Girls Club of Central Iowa. Other work may come through a staff members' prior connection, such as Prospect Park with Des Moines Parks and Recreation, or a more traditional Request for Qualifications (RFQ) process like the Des Moines Area Religious Council (DMARC).
"Usually with non-profit groups there is a connection, whether through the board or a volunteer, that is tied to the architecture and engineering industry," said Associate, Architect Evan Shaw.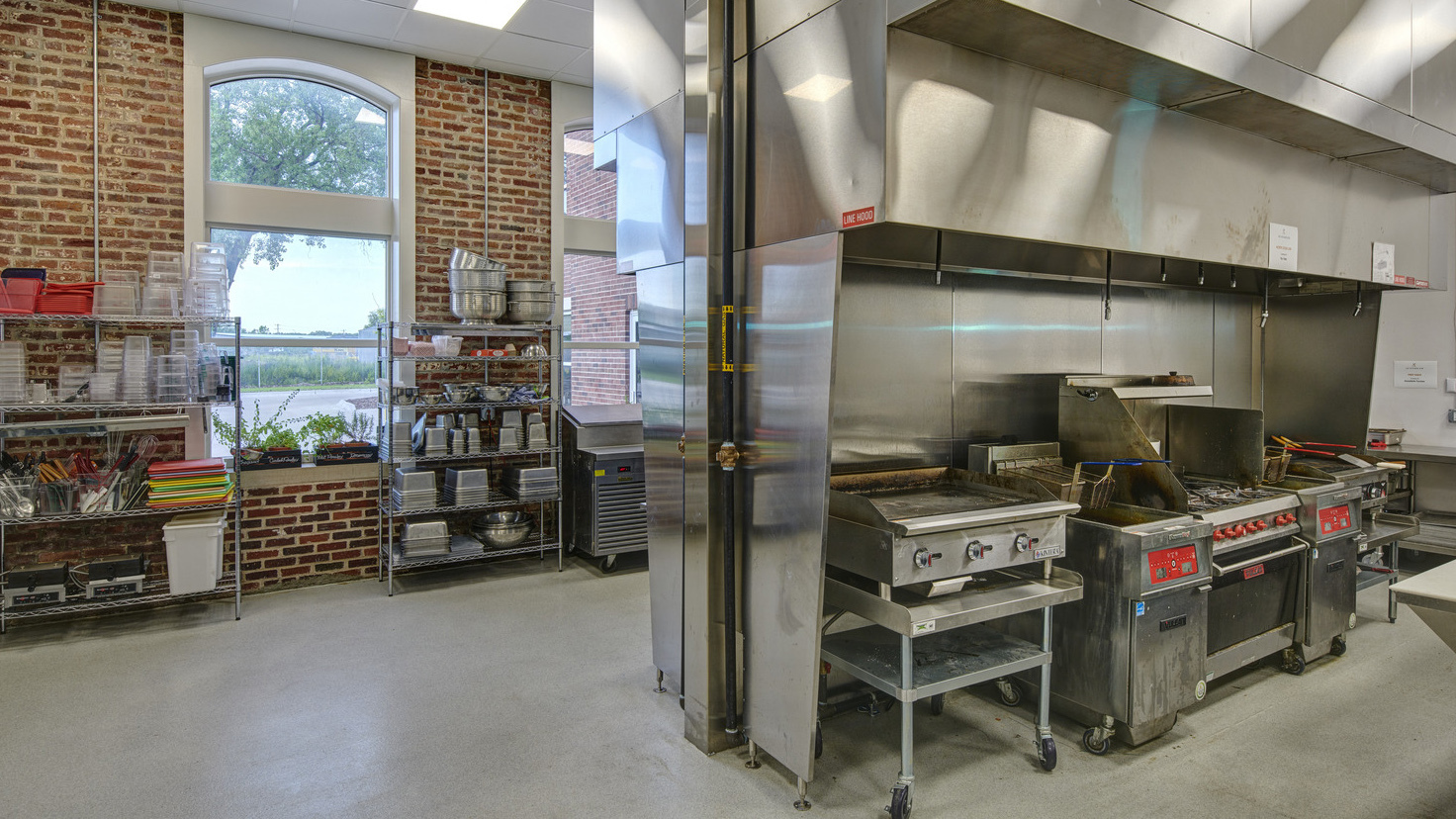 The Kitchen was INVISION's first step into pro bono waters, officially in 2018. The project, which was the third and final tenant space occupying a reclaimed railcar repair building in historic Valley Junction, created a commercial kitchen for the Justice League of Food to operate out of and sell to patrons at both The Foundry and The Hall. The non-profit group, which focuses on reducing homelessness in Central Iowa through skills training and job placement in the food and beverage industry, was a congenial first non-profit client to work with.
For the Boys & Girls Clubs of Central Iowa and the Boys & Girls Clubs of the Cedar Valley, a strong connection and completion of over half a dozen past projects with the non-profit organization led to several pro bono opportunities services including conceptual design at the Frank J. Ross Club in Des Moines and a master plan for the Lime Street Club in Waterloo.
"They are all so incredibly appreciative of the work we do for them," said Shaw. ​"We're just happy to do what we can to help their services reach more people."
In 2018, the firm connected with an existing client to donate time and effort to the Ronald McDonald House at MercyOne Children's Hospital. Renovation included approximately 15,570 square feet on the fourth floor of Mercy's patient tower and resulted in a 14-guest suite that provides a home away from home for families traveling to Des Moines seeking medical care for their children. Other amenities of the space include a full-size kitchen, laundry room, playroom and respite rooms.
"By leveraging existing relationships with vendors, our firm was able to acquire over $10,000 in materials to enhance the experience for families staying at the Ronald McDonald House," said Swift. ​"Financial resources are important in any project, but stretching those dollars becomes even more vital when working with non-profits."
In some cases, clients need assistance in defining an optimal operational model or lack an understanding of how to properly fundraise. Understanding a non-profit's financial, logistical, geographical and operational conditions helps to determine whether our firm will be a good match for the project and is an important step to consider before starting work. We are accommodating, but also diligent and realistic about the work we can take on and the commitment it will take to complete a project.
"You really do have to manage your time, making sure you're properly utilizing resources," said Shaw. ​"But as architects, we're generally humanists. By nature, we want to be all-inclusive."
DMARC CEO Matt Unger was looking for a new home in 2019 for their Des Moines headquarters. After a year and a half of searching, a building that checked all the right boxes was selected. INVISION was called in to renovate the disused big-box store, creating a front-of-house pantry, office space and education center, along with back-of-house warehouse space with donation drop-off and volunteer area. How important was the new space? Over 43,000 people were served through the DMARC Food Pantry Network in 2021 and are on track to serve a record number again this year. With their new facility, DMARC will be able to accommodate an increase of volunteers, expand donation intake and serve a greater number of community members in need.
This project could not have come together at a better time for the community, for those facing food insecurities and for the work we're trying to do here at DMARC," said Unger. ​"I can't say enough good things about working with the INVISION team."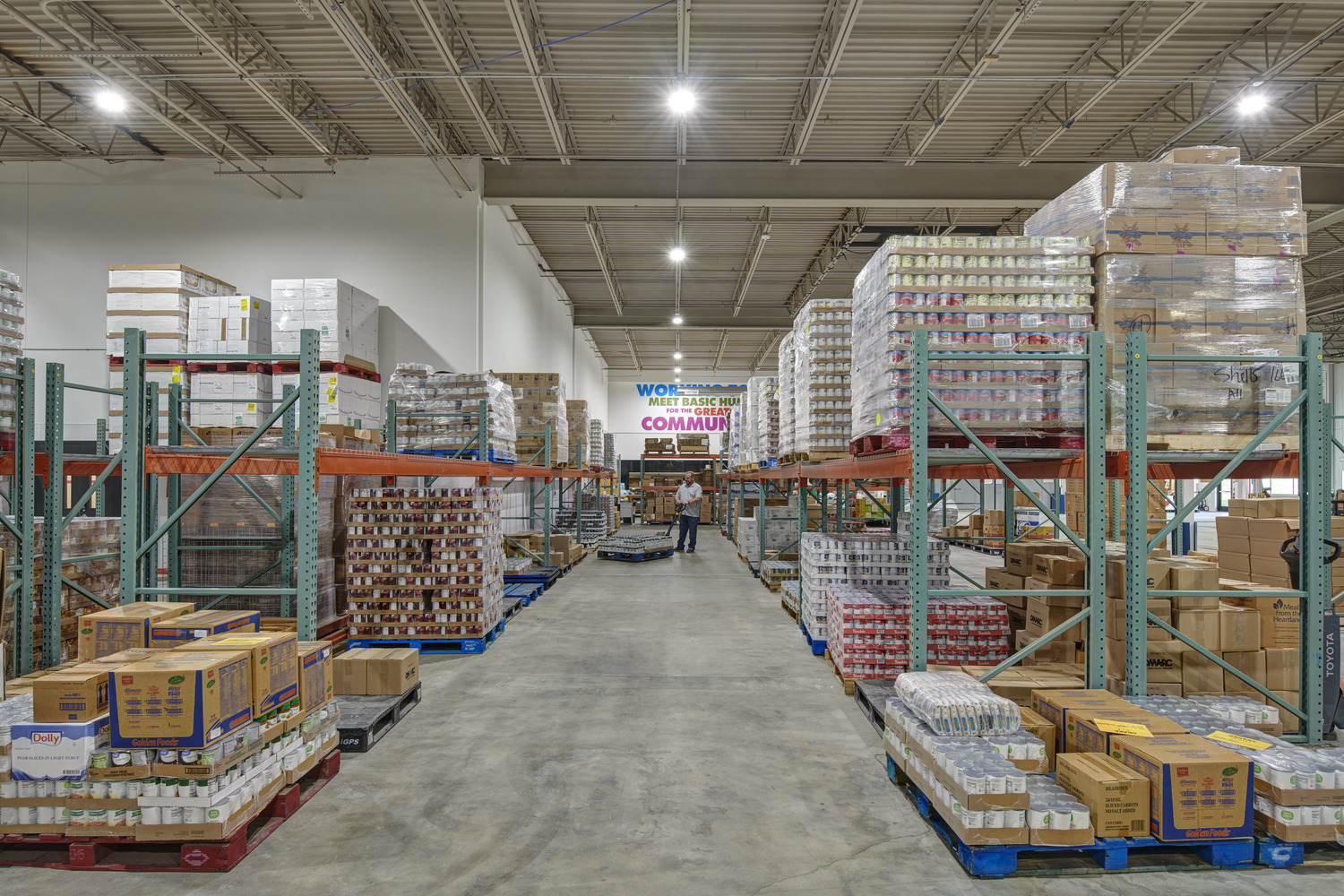 Prospect Park, nestled between the Des Moines River to the north and local neighborhoods to the south, was becoming a nuisance park for the city due to location, topography and site access. The Parks and Recreation division needed help in rethinking the site layout while creating a safe environment for families and residents.
Geographically, because the site is long, narrow and hemmed in by a bluff on one side and the river on the other, it made monitoring the park almost impossible. Because of those details, the park slowly became a hot spot for nefarious activity, taking on a bad reputation and driving down public interest. Another challenge for the firm, the entirety of the park resides within a flood plain.
"Our job was to work with the parks and rec department to identify new ways to reprogram the park and bring in new activities that take advantage of the natural features," said Shaw. ​"We went through a pretty lengthy discovery process to determine what five or six implementations could have the most impact on the park."
Site decisions fell into two broad categories, infrastructure and activities. Current thinking is centered on exploring the demolition of the roadway through the interior of the site while adding parking at the ends, creating more cohesion and increased security. Enhancing natural features of the park, such as an accessible boat ramp and direct entry to the river was a priority. Connecting the park to the expansive bike trail system was also an important item taken into consideration. Future action items of the city may include linking Prospect Park and Riverview Park via a bridge over the Des Moines River and the creation of a nature center, complete with interactive features and gathering spaces for the community to rent out.
"Working with Des Moines Parks and Rec has been such a joy. We have a similar mindset and aspiration to see improvements in the places that surround us," said Watkins. ​"Their appreciation for nature and the built environment challenges design in the best ways."
In the Cedar Valley, a growing need to provide housing for homeless individuals is being addressed by the creation of the Cedar Valley Housing Corporation. To assist in the mission, our firm was called in to provide conceptual design for a facility with 24 single-room occupancy, managed by the Cedar Valley Housing Corporation and a consortium of representatives from the Northeast Iowa Food Bank, Black Hawk County, Black Hawk County Sheriff's Office, First Judicial District Department of Correctional Services, Waterloo Police, Waterloo Fire Rescue, MERCY ONE and UnityPoint Health among others. Once complete, the facility will be a safe, secure, environmentally conscious, affordable and flexible for future growth. This will provide space for community-based agencies to assist residents with mental health and substance abuse services, medical care and job skills courses with the ultimate goal of providing the support needed to help residents successful reintegrate back into the community.
"I have always believed that I have a responsibility to contribute to the community I live in," said Architect Zach Hansen. ​"Our partnership with the Cedar Valley Housing Corporation allows us to positively impact the Cedar Valley and makes me proud to call INVISION and Waterloo my home."
As our pro bono program continues to grow, so too will those who reap the benefits. That may include the greater public, clients, and our employees. Companies who participate in pro bono work, regardless of industry, generally have better staff morale. For those in the field of architecture, making a difference in the lives of others through design is often a cited reason for entering the profession. Pro bono work is another opportunity to do just that and serves to hone and develop one's craft.
Early success of the pro bono program has given our firm the framework needed to continue providing services to deserving organizations in and around our communities. For our staff, seeing and experiencing the fruits of the firm's labor firsthand has made the endeavor even sweeter.
"It's much more personable when you live in the community you're doing the work in. You see those impacts much more directly," said Shaw.
We encourage all qualifying 501(c)(3) organizations in need of planning, architectural or interior services to submit a request for review by filling out the general submission form on our contact page.